Competition Themes 2019
2019 sees us continue with six (6) competitions throughout the year and an "End Of Year" competition at year-end.
All members are encouraged to take photos for the purpose of entering the competition rather than trawling their catalogue for images that match the set theme. The purpose of the competitions is to inspire creativity and to challenge members to produce quality images for the purpose of entry. With each set subject we will also include an Open category pool. In the open category you are permitted to enter any image for consideration.
A reminder that both Print and Digital entries require a digital copy be sent to the competition steward with the print delivered to the meeting when the entries are due.

The subject descriptions may evolve over time.
---
1. Monochrome and Open
Often called "black and white" our monochrome competition is quite the 'open' subject. The only rule is your image must contain only one tonal range. Entries into this competition will also be up for consideration for the Knox Interclub competition later in the year.
Entries due: February 12, 2019 - Our first meeting for the year
See our Pinterest board for Monochrome
---
2. Architecture and Open
Capture the buildings around us. Get in close for a detailed shot, or go wide for effect. Find the elements of design, leading lines, repetition, colour, etc in the manmade structures that fill our city and urban environments. If you photograph a scene that is large scale, don't be afraid to include a human figure to show perspective (you can see some examples of this in the Pinterest board.
Entries due: March 26, 2019
See our Pinterest board for Architecture inspiration
You can also checkout:
---
3. Reflections and Open
Reflections are seen in shiny surfaces, one may be surprised where they show up and what they show. We're looking forward to see what you capture through the looking glass.
Entries due: May 14, 2019
See our Pinterest board for Reflection inspiration
---
4. Complementary Colours and Open
When you look at a typical colour wheel, complementary colours are the colours that appear on the direct opposites ie Red and Green, Blue and Orange. There are also "Split Complementary Colours" or "Dual Complementary Colours", rather than 2 colours this is three. These appear on the wheel on opposite sides, with a colour separating them.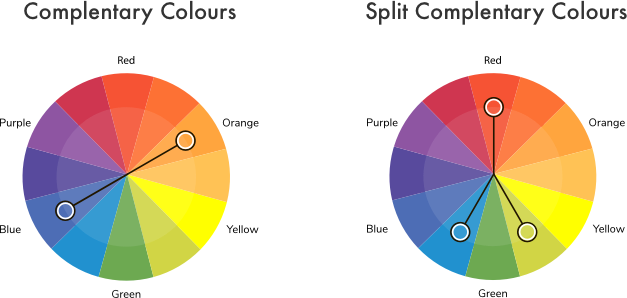 Entries due: June 25, 2019
See our Pinterest board for Complementary Colours inspiration
---
5. Domesticity and Open
Domesticity is about home or family life. In this competition we're looking for a scene that depicts some part of family life in and around the home. Your image need not contain a human subject, but must show evidence that a human interacts with the scene.
Entries due: August 13, 2019
See our Pinterest board for Domesticity inspiration
You can also checkout:
the work of Gregory Crewdson
Set in the Street, an art project by Justin Bettman, it's not obvious, but you just scroll the page to see the work and hover over the scene to pullout and see the WHOLE scene.
---
6. Flash'n'Blur and Open
We've done panning, we've done flashing, now it's time to use them together! Flash'n'Blur is about exploring the rear-curtain on your camera, or extremely good timing. We allow the camera shutter to remain open for an extended period of time and fire a flash as the rear curtain closes, or we manually fire a flash as the curtain closes. The result is a beautiful blur of your subject with them tack-sharp, set by the flash going off.
Entries due: September 24, 2019
See our Pinterest board for Flash'n'Blur inspiration
---
End of Year Competition - Open
Entries for the End of Year Competition must have been entered in one of the earlier competitions in 2019. It doesn't have to have earned a placing, just been entered. You are free to make changes to the image, however it must be entered in the same format it was entered previously.
Entries Due: October 22, 2019.
Members who require further clarification are encourage to contact us for more clarity on any subject via competitions@williamstowncameraclub.com.au. See the Competition Rules for full details of entry requirements.
---
Interclub Competitions
VAPS Interclub - Open - Entries due: TBC - Usually around the end of February
Camberwell Interclub - Open - Entries due: TBC
Knox Monochrome Interclub - Monochrome - Entries due: TBC - usually around the start or May