A Day for the Walking Dead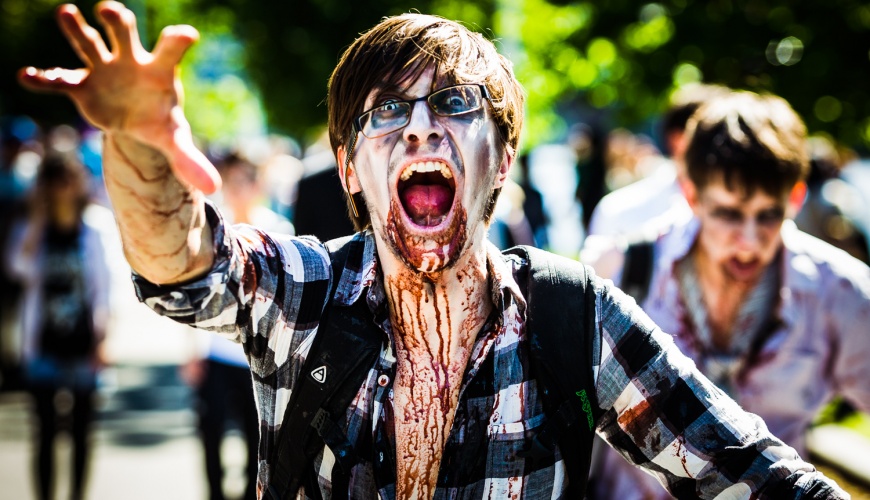 Melbourne Zombie Shuffle 2013
© James Troi
Saturday was a fine day, the sun was shining and the city was bustling with shoppers. I imagine some were getting their Christmas shopping done early, there's only 71 days to go. Others were having coffee and socialising with friends, all seemed oblivious to the calamity that was to befall them, most going about, not knowing the trouble brewing it Fitzroy Gardens. The following is not for those with weak stomachs...
At 1:30pm the Zombies, the undead, broke containment. Limping and shuffling along the streets of Melbourne, dragging body parts, blood oozing from mouths and gaping wounds.
The public screamed and ran, some brave souls gawked at the obscenities before them.
The horde continued on in their march through the city, their human attendants would yell "What do you want?" their droning retort came "BRAINS", "When do you want them?" the humans questioned, to which the Zombies replied in the same banal, communal voice: "BRAINS".
Leaving from Fitzroy Gardens, along Albert, Lonsdale, and down Elizabeth streets, through the Flinders Street Station underpass, along South Bank and over to Alexandra Gardens. All up the zombies made it about 4km. Thankfully no civilians were lost on the way.
A heavily armed human contingent was waiting at Alexandra gardens to ensure the zombies made it no further and posed no ongoing threat to the living population. The gun fire was loud, the zombies fell, humanity was saved.
For photographers the day was a goldmine of opportunity. As with all cosplay situations the participants were more than happy to show off their efforts and pose for photos.
If you get a chance to photograph an event like this don't pass it up. There are cosplay events on quite often in Melbourne. The annual Melbourne Zombie Shuffle is just one example. We have video game conventions, sci-fi conventions, comic book conventions, all of which bring out the cosplayers. Cosplay is when people venture into public dressed as their favourite character from pop-culture.
These events are a great time to practise your shooting. There's nothing on the line. You can practise shooting in different environments, lighting situations, moving subjects and subjects willing to pose pretty much anyway you ask them to. Don't hesitate, lest you become one of the horde screaming for brains.
Thanks to the members who sent through photos for the gallery below, we hope you like them. If any other members have photos of the day, send them through and we'll add them to the gallery.
Perhaps this is "Hello" in Zombie?
Click on any image above to see a larger view.