Grampians Weekend Trip (20-21 April)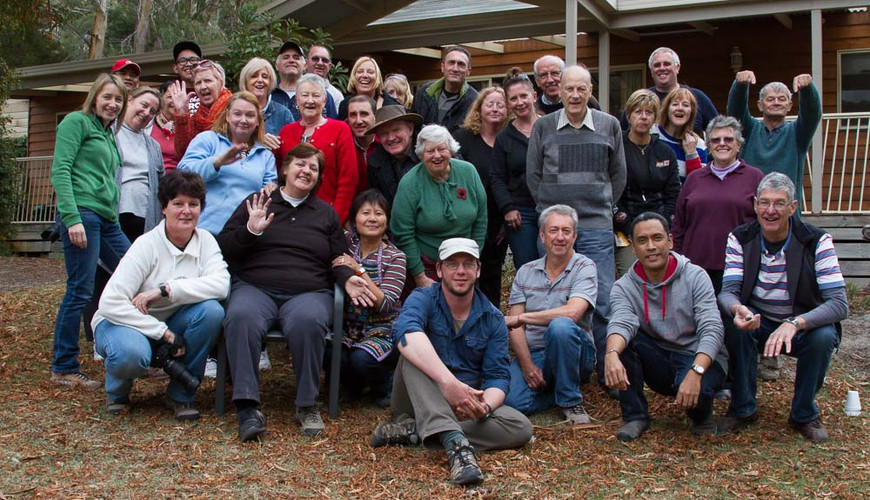 Grampians Explorers
© David Male
Well, our first Club weekend for the year has now come and gone with 37 Members (including a few family and friends) attending at Halls Gap. The weather was kind, despite the forecast for a little rain, though both the mornings and evenings were quite chilly. Some stayed for 1 night and others for 3 – we were scattered all over town, which meant that we were all within 4 minutes of each other!! (Halls Gap is not very big). We stayed in caravans, YHA, flats, motels and apartments, ate out, drank lots of coffee in between times, bought other miscellaneous stuff and hopefully helped the local economy.
The Club engaged local professional photographer Marty Schoo as our guide for the weekend. This involved 2 field trips , the first on Saturday afternoon through to dusk and then on Sunday morning pre-dawn til about 11am. Marty took us to all the hotspots including the Pinnacles, Reeds Lookout, Boroka Lookout and McKenzie Falls. He also provided customised assistance to individuals on request regarding camera settings or compositional opportunities at different locations. Read Marty's account on his blog.
Others also went to Mt William, Silverband Falls, Lake Wartuk and Lake Bellfield. The Brambuk Visitor Centre was a must-see depicting Koori history and heritage. Nearby walks yielded wonderful fauna sightings including red deer, many emu plus roos by the hundred. I'm pleased to report that no one hit any wildlife whilst driving.
Photographically we saw wonderful sunrises and sunset, rocky outcrops, waterfalls, misty mountain ranges and more. Have a look at the Member gallery for images.
The weekend was not without incident with:
Graeme arriving 3 days early and departing on Saturday morning before everything actually started - (he had another commitment in Melbourne that day);
one group of cars in our convoy inadvertently following a stranger who was heading for a different destination;
a twisted ankle by Marg (quite nasty) - thanks to Anne and Irene for a trip to Stawell hospital and thanks to Leo for driving her car back to Melbourne;
a misplaced birthday cake (accidentally?? exchanged at the hotel) - we ate the 'replacement' the next day and celebrated Marg, Anne and Sue's birthdays plus Tony and Marg's wedding anniversary;
a lost Member who accidentally took an incorrect turn whilst walking – we were all ready to send out the search and rescue parties;
a set of car keys locked in the car boot (this resulted in a 3.5 hour wait at McKenzie Falls for the RACV plus a new RACV Membership at a cost of $240+);
John and Kratis taking multi-thousands of shots depicting star trails through to 3am in near freezing conditions – we are waiting to see the results!
We concluded with our now traditional brunch, coordinated by Irene, of scrambled eggs, tomato, bacon, mushrooms, juice, tea/coffee and raisin toast. No-one went home hungry. And of course our group photo (which can be used to identify the guilty!!).
Lots of fun had by all.
Click on any image above to see a larger view.