City Walk
When
30th April, 2022 – 2:30 pm to 6:30 pm
Where
Meet at Federation Square
City Walk - Saturday 30 April - Itinerary
Start: Federation Square 2:30pm
End: Seafarers Bridge/South Wharf eateries 6:00/6:30pm
Distance: approximately 2km
Sunset is 5:16pm with Civil end at 5:43pm
Dinner: 6:30pm at Melbourne Public, South Wharf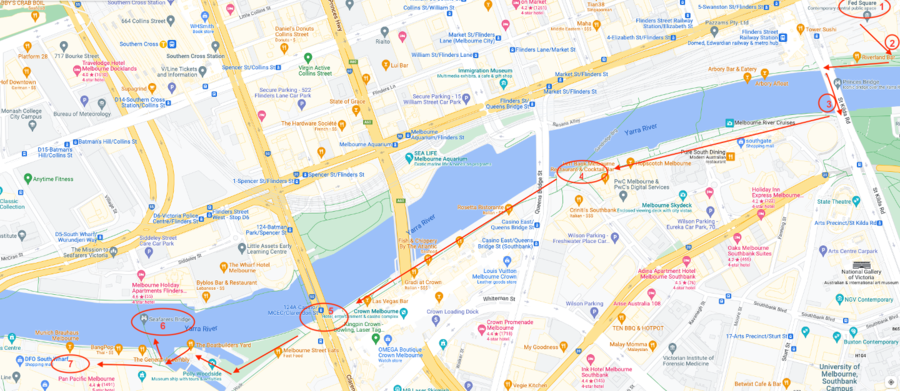 Suggestion:
Park close to the endpoint of South Wharf (e.g., Siddeley St car park is a short walk from the endpoint via Seafarers Bridge) and catch the free tram along Flinders Street to Federation Square. Use public transport to travel to and from the city and use Flinders Street Station for the start point and Southern Cross Station for the endpoint.
Route - refer to map
Federation Square
Yarra River north bank
Cross Princes Bridge and then take the stairs down to the Southgate Promenade
Sandridge Bridge
Crown Casino
Seafarers Bridge
Dinner - Melbourne Public, 11 Dukes Wharf
Photo opportunities along the route include but are not limited to:
Street photography and architecture around Federation Square, St Paul's Cathedral and Flinders Street Station.
River views towards the boathouses, MCG and the Arts Centre.
Take in the views from the Princes Bridge and then the views of the river and city buildings from Southgate. There are usually buskers performing along the promenade and other opportunities for candid photography.
Take a stroll on Sandridge Bridge or catch your breath and people watch.
Street photography and architecture around Crown casino.
Seafarers Bridge for sunset and twilight.
Siddeley St Car Park ($13 flat rate for weekend parking) https://www.carepark.com.au/find-a-care-park/671-701-flinders-st-docklands/
Melbourne Public https://www.melbournepublic.com.au/