Tarnagulla's Story's Gold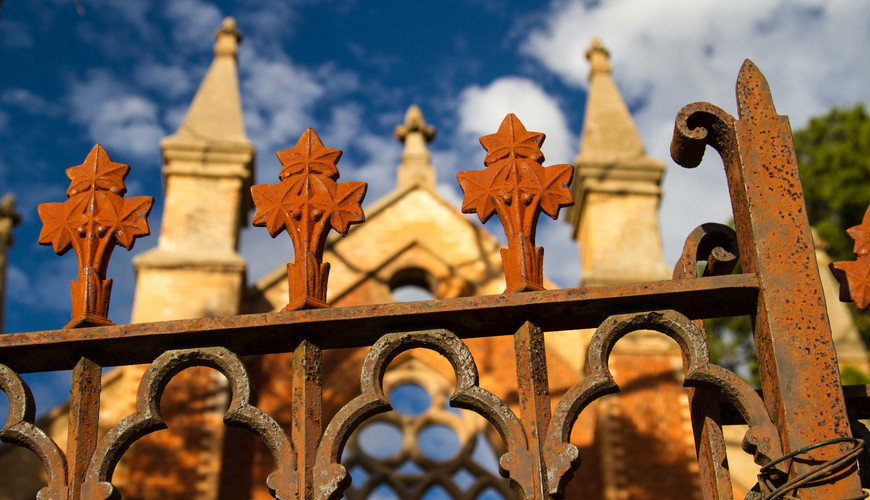 Tarnagulla Church ruins © David Male
During the visit to St Arnaud and Donald a trio of our members had quite the chance encounter.
While at a cafe in Tarnagulla on Sunday the members were having a conversation about the town they had stopped in, they were handed a sheet of paper to read by the cafe owner, it was from the man sitting at the table next to them. Overhearing their conversation the man, a local resident and poet Ken Peake, had been inspired to put pen to paper and write his third poem for the day.
A regular at the cafe, Mr Peake visits for coffee and inspiration to write is poems and on this day he had plenty.
Ken gifted the writing to David Male, who has given me permission to show it here. David, Brian, and Nola were impressed with the work, as you can see from the original, Ken wrote the piece at speed and completed it without alteration. Of course, Ken has had plenty of practise, he told David that he has been writing poems regularly since the age of 15.
The header image here by David Male is of the Church referenced in the poem below.
Tarnagulla's Story's Gold
Those glory days have vanished
Like the roaring days of old
When the nuggets lay on the street
The times of yellow gold.
The mines now are long run out
Like as so many dreams
And fortunes made and disappeared
Like as so many schemes.
Old buildings stand as a testimony
Of how the past was made
And lives were changed by misfortunes
As their living stories fade.
The old church set on fire
And all to satisfy a hate
The winds of the past come back
To tell the story of Tarnagulla's fate.
Such wondrous stories to be told
Of roaring days of old
A Tarnagulla's story is bold
All that lives was once gold.
- Ken Peake 08/04/2018